Remove and replace deteriorated wood and failing shakes.  Paint the entire boathouse; exterior shakes and woodwork. $85,000-110,000.
Currently underway thanks to generous supporters!
Includes replacing the broken, rotten and missing cedar shakes and removing innumerable layers of old paint from the first floor window panes and front entrance area. Replace cedar siding, restore woodwork and original windows. Remove old air conditioning cage above French door on river side exterior, add cedar shakes, patch and paint.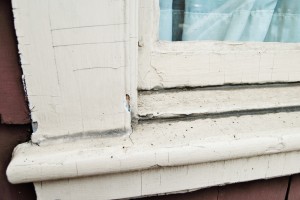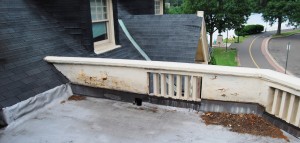 Monitor the stone foundation for movement.
Currently underway thanks to generous supporters!
Improve visitor access to the lighthouse; estimated $10,000.
Ensuring public access to Philadelphia's only lighthouse bolsters our mission. Project includes inspecting the tower masonry, hardscaping, lighting, fencing and improving the tower's interior walkway.
Replace Oil Burner; $22,000 within three years. Current Oil Burner is 35+ years old. Oil Burner must be replaced or removed and replaced with gas heat.  Insert required flue liner. Currently oil boiler and gas hot water heater share the same fireplace flue.  Add a power vent for gas exhaust to flow out under riverside porch.  Remove oil tank.
Additional Projects on the To Do List
Change the slope of the front lawn and level the concrete pavement at the front of house.  Lawn and pavement should slope away from the house in order to divert storm water away from the building's foundation. Current slope is towards the building.  Add a berm around the foundation.  Est. $3,000.
Inspect the Sedgeley Club seawall for damage or weakness, including 100 feet upriver and downriver.  Est. $2,800.
Repair cracked exterior knee walls bordering riverside basement slab. Est. $200.
Create a safe path to access the lighthouse door including safety fencing next to the seawall. Est. $250.
Remove loose paint from original tin ceiling in first floor kitchen and repaint. Est. $400.
Replace indoor emergency lighting system. Est. $500.
Replace stained ceiling tiles in main dining room or replace entire ceiling with historically accurate ceiling.  Est. $300 to $5,000.
Repair original French doors so all open and close.  Some are painted shut. Est. $1,000.
Clear out fireplace – blocked damper and repair. Est. $1,600.
Check for new signs of wood rot and carpenter ant decay on riverside porch and surrounding basement slab. Replace rotted wood. Est. $200.
Repair cracked plaster on the walls and ceilings throughout the interior.  Apply finish coat. Est. $2,000.
Replace warped flooring in the Ladies Lounge second floor. First inspect the floor joists and discover why the floor slopes toward the southeast corner.  Est. $5,000.
Clean out dumb waiter tower which is filled with debris from 30 years ago.  Est. $1,800.
Remove old telephone wire from basement ceiling (left over from computers that timed crew races). N/C
Add sump pump to basement and provide drainage to higher dry ground.  Est. $600.
Additional cosmetic improvements (historically accurate) are to be funded partly by Sedgeley Club members. Such improvements are designed to increase public rentals for events and meetings – a main source of income.